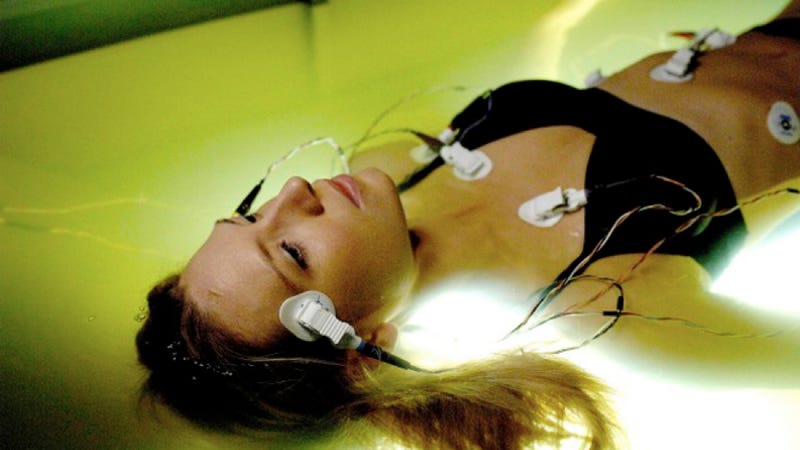 On Fringe, a sensory deprivation tank can activate your mental powers and even open a gateway to another universe. But what can floating in a dark warm tank do for you in real life? And why would people even want to do such a thing?
The sensory deprivation tank — a temperature-regulated, salt-water filled, soundproof, lightproof tank that can isolate its occupant from numerous forms of sensory input all at once — has gone by many names over the years, but its overall design and purpose have remained largely unchanged: to find out what your brain does when it's shoved into a box all by itself and left alone for a while. Here's the complete lowdown on sensory deprivation tanks.
Back in the old days, if you wanted to experience sensory deprivation you wore a blindfold or stuck your fingers in your ears like everybody else. But that all changed in 1954, when neuroscientist John C. Lilly dared to question what would happen if the mind was deprived of as much external stimulus as possible.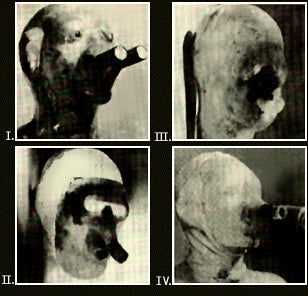 In the original deprivation tank, you were suspended in 160 gallons of water with everything but the top of your head completely submerged. A nightmarish-looking "black-out" mask, similar to the ones pictured here [Image Credit: Lilly and Shurley, Columbia University Press], supplied you with air and blocked any light from reaching your eyes. The water and air temperature were kept at the same temperature as your skin, roughly 34 degrees celsius.
The masks were eventually done away with (apparently people found having their heads wrapped in latex distracting), and the requirement of total submersion along with them; instead, the water was saturated with 800 pounds of Epsom salt, which made the water so dense that you could float with your entire body at or near its surface in spite of its shallow depth.
Inside the tank there is no light, and therefore no sense of vision. You experience the kind of quiet that allows you to hear your muscles tense, your heart beat, and your eyelids close. The extreme buoyancy of the water lends your environment an almost zero-gravity quality. The lack of a temperature differential plays with your ability to perceive where your body ends and where the water and air begin.
But then what happens? What do people experience while they're in the tank? Can an isolation chamber really transport you to a parallel universe like it does on Fringe?
The first man in the tank
The answer to every one of these questions (yes, even the one about Fringe) depends on where you look and whom you ask, as the vast majority of available evidence regarding the effects of sensory deprivation tanks exists in the form of personal accounts.
But before we can talk about these accounts and the research that may help support them, it would be helpful to gain some understanding of the mind that first conceived of the tank.
While John C. Lilly is certainly well known for developing the world's first isolation tank, he was by no means a stranger to revolutionary, albeit sometimes strange and uncharted, areas of medical and scientific innovation.
Lilly was a pioneer in the field of electronic brain stimulation. He was the first person to map pain and pleasure pathways in the brain. He founded an entire branch of science exploring interspecies communication between humans, dolphins, and whales; conducted extensive experimentation with mind-altering drugs like LSD (personally); and spent prolonged periods of time exploring the nature of human consciousness in the isolation tank.
It bears mentioning that Lilly's experiments with interspecies communication, personal LSD use, and sensory deprivation often overlapped.
All this is to say that calling John C. Lilly eccentric would be akin to calling the Beatles a popular band – somehow "eccentric" just doesn't do the man justice.
What really happens in the tank?
Had a nice and friendly staff member help us out! A great first experience and I hope to be back soon! Unfortunately the power went out towards the end but that is beyond their control as blackouts occur quite frequently in Vietnam
Great experience! It was my first time there and the staff member/ owner took his time to explain to us the benefits and walked us through the process. Unfortunately there was a power trip towards the end of my session, but the staff member/ owner were witty calm about it and brought it a huge speaker to wake us up (just in case we hadn't got up).
This is an absolutley amazing find in Hanoi. I always tell people that floating is the perfect practice if your looking to improve your health, inner peace, and general wellbeing - and that is certainly the case at 'float Hanoi' as well! I have been floating regularly for a few years in the US, and I can say that the tanks and facilities here are truly top of the line. Also Minh, one of the owners, was incredibly welcoming and helpful - he even took me to find an ATM machine after my float so i could pay him! Then followed by showing me a gas station so I could fill up my motorbike (Ive only been here two days). 🙂 Float Hanoi exemplifies what selfless service is all about - I feel at home in Hanoi already just from my first experience here (Of course im also relaxed and rejuvinated from the float itself). I bought a package of 5 "one hour" floats, and when those are up, I will be buying a package of 5 "ninety minute" floats. All that said, just do yourself a big favor and give this place a real shot! You wont be at all dossapointed. ????
The last time I floated was back in Bangkok in 2019. My husband and I were regulars at the facility there. The Hanoi float center feels much more "homemade" than the one in Bangkok. Not saying that neither is better than the other; the setting feels very different, which is something to keep in mind. Otherwise, the tanks work the same - the only difference would be that you have the option to pry the tank's cover open slightly with the ones in BKK but here, it's either fully close or open, which can be uncomfortable for first-time floaters. Also, if you haven't meditated for a long time, it can be pretty challenging during the first few sessions as your mind WILL keep wandering. We did the couple floating session for 60 minutes, and we didn't regret giving it a try. It was nice, dark, and quiet (something you don't get much from living in Hanoi). The staff understands and speaks English very well. The online reservation was hassle free, and the team will contact you a day before by phone to reconfirm. Note that they are not really responsive on Facebook messenger, so it's better to call. It's a straight forward experience, you go in, pay, rinse a bit, float, get out, rinse again, dress up and leave. Nothing to complain about and would personally return.
Quietest place in HCMC*. I've been floating for over four years and was so happy to find this place in Vietnam. The set up is very professional and sanitary. Owners are knowledgeable and extremely helpful. The prices do seem a bit high and geared towards tourists. I'll will return, but not as frequently as I'd like. *I would not suggest you float if there's going to be rain. During my float it started to pour and the noise was to the point you can not tune it out. I had to cut my float short as a result. No offer of offset cost or float time in the future, disappointing.
Bearing these things in mind, it's safe to say that Lilly is probably the closest that reality has ever come to producing a real-life version of Fringe's Walter Bishop, which brings us back to to the subjects of isolation tank experiences and parallel universes.
In Fringe, Walter's sensory deprivation tank serves as a bridge between two alternate realities. Lilly believed that his experiences in the tank could produce a similar effect.
Lilly claimed that the sensory deprivation tank allowed him to make contact with creatures from other dimensions, and civilizations far more advanced than our own. He would forever refer to his very first encounter with entities from another dimension as "the first conference of three beings," the details of which are recounted in great detail on Lilly's website and are really worth the read.
Lilly's, however, is an experience that others who use tanks have rarely reported.
By comparison, characterizations of sensory deprivation like this one by comedian Joe Rogan begin to sound downright grounded — and Rogan's descriptions of hallucinations, heightened levels of introspection, and the sensation that the mind has left the body are actually among the most commonly reported experiences among tank users. Even renowned physicist Richard Feynman described having hallucinations and out-of-body experiences while using sensory depravation chambers.
Reports of a heightened sense of introspection and out-of-body experiences by tank users mirror those of people with extensive experience in meditation, and both practices have been linked to decreased alpha waves and increased theta waves in the brain — patterns most typically found in sleeping states.
Other investigations have demonstrated that deprivation of even one form of sensory input can have hallucinatory effects. And while there is very little research done today that examines sensory deprivation at the level that it's experienced in an isolation tank, a study conducted in 2009 showed that just 15 minutes of near-total sensory deprivation was enough to trigger vivid hallucinations in many of its test subjects.
Having said that, it's worth pointing out that the scientists selected test subjects who scored in either the upper or lower 20th percentile on a test called the "Revised Hallucinations Scale," which basically scores the predisposition of an otherwise healthy person to see things that aren't really there.
Not surprisingly, participants selected from the bottom 20% were more likely to report hallucinations.
If there's a take-home message from all of this, it's that sensory deprivation tanks are something of a mixed bag. Depending on your proclivity for psychoactive drug use, they can offer anything from a means to achieving relaxation and reflection to a vehicle that can aid you in your travels through time and space. And if you should feel the itch to explore what sensory deprivation might be able to offer you, you can seek out nearby tank centers over at Float Finder.
Further Reading
The John C. Lilly Homepage
John C. Lilly and E.J. Gold's Tanks for the Memories: Flotation Tank Talks
The chapter "Altered States" from Richard Feynman's Surely You're Joking, Mr. Feynman!
Source: Gizmodo